Few men have the musical experience, ability, and most importantly, intellectual perspective possessed by the jazz musician Bobby Kapp. In combination with a natural rhythmic sense, he is a force to be reckoned with as a vocalist and lyricist. He has been called a romantic, a Jazz Ambassador, an expatriate, and most importantly, a master musician; and to finish his most recent projects Themes 4 Transmutation and Cilla Sin Embargo, Bobby had to be all of these at once. His journey to becoming a man capable of wearing so many hats began in New Jersey, as a child who liked to sing.
     Singing came before anything else. But as Bobby entered his teenage years, an opportunity to make money at his father's Tire Factory appeared, and with that hard-earned cash he bought his first drum set. At sixteen, he secured his first drumming gig with a group called George Ruben and the Stardusters, and began recognizing the reality of the musicians' life as something that he desired for himself. As his teenage years came to a close, he began sneaking off to Staten Island, and there found an affinity for the blues that derailed any possibility of staying in New Jersey.
     For young musicians in the New York and New Jersey area in the 1960's, the resorts and vacation towns of Catskill Mountains were the ground floor to musical success. There young men could play, earn money, live with free room and board, drink beer and most importantly, develop their chops. What drove Bobby to the Catskills was the idea that he wasn't supposed to seek the musician's lifestyle, and, most importantly, the blues that he'd grown to love in Staten Island. There, he developed into a man who could make a living playing drums and singing, without ever ceasing to study the craft of his profession.
     When life became complex in the US, Bobby's solution was simple: head South. Since making that decision, he has become a fixture for San Miguel De Allende in Mexico City. Some of the most important relationships in Bobby's life began and developed here, including his romance with Cilla, who is the inspiration for the recent album "Cilla Sin Embargo."

     On top of this romantic necessity for making a new album, his recent musical explorations have again taken him on both sides of the border, through complex, different musical cultures, where the industry splits at the seams for both legal and social reasons. Themes 4 Transmutation, is his latest EP. It is experimental, completely free form jazz recorded in October, 2014, in New York City at Systems 2 studios, under Bobby's supervision. In the same vein tapped by Miles Davis during the composing and performance of "Kind of Blue," Bobby found the greatest pure improvisational jazz musicians New York had to offer: Tyler Mitchell on bass, Matthew Shipp on keys, and Ross Moshe playing saxophone. With little to no direction, and having never met each other before, the musicians delivered what Bobby and critics consider a masterpiece in freeform jazz.
     Two months later, Bobby and his team were in Cuba, via Mexico, in the very last days before the U.S. embargo was eased. Originally meant as a gesture of dedication to the woman he loves, his latest project that has taken on a much larger meaning than was originally intended, becoming the first look for many Americans into the Cuban jazz scene without the overtone of economic tension… sin embargo.
     So how was Bobby able to make two separate albums, in separate countries that at the time of the recording, were culturally exclusive of each other? What was needed to make it happen? "Resolving conflict is a problem thousands of years old. Good manners are the common denominator. In music you can have different points of view but still make sense of out the whole thing, in a peaceful beautiful way." 
"I feel that the only reason for me to be around is to perform, because whoever comes to hear me, they're in the experience too. The fact that I know how to play music is one thing, so I have to ask myself 'how can I be of service?' It's like, is there any way we can communicate, and raise our level of being? Is there anything we can do to be more? The music has to be about more than just a virtuoso musician."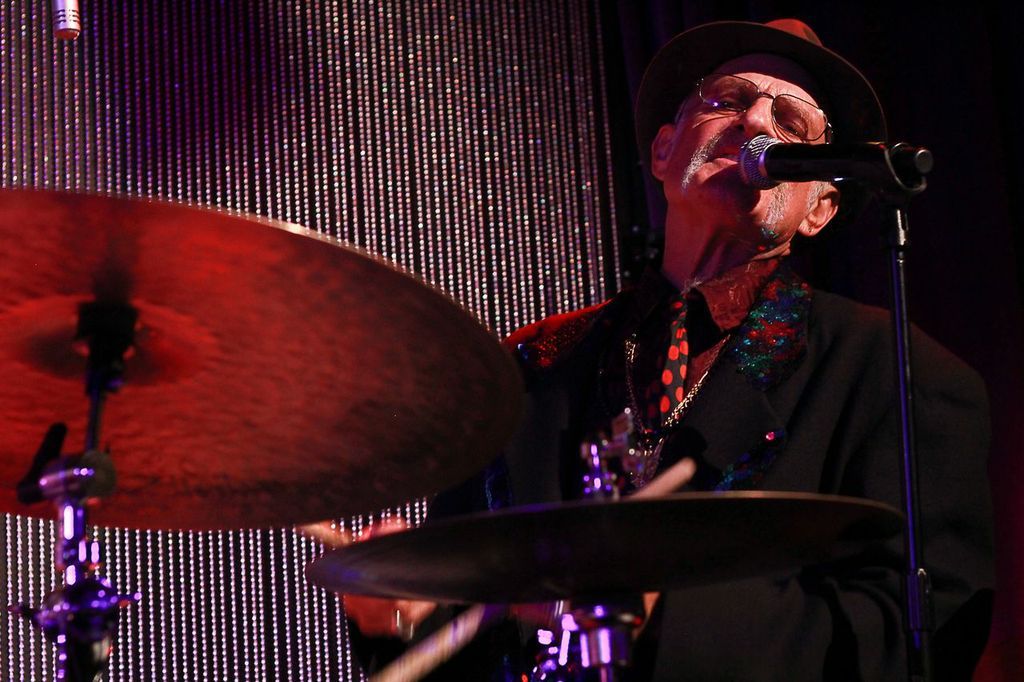 Fine Wine Trio - Bobby Kapp - Vocal/Drums Gene Perla - Acoustic Bass Richard Wyands - Piano
The Fine Wine Trio represented the U.S. State Department as Jazz Ambassadors and completed a tour of Africa and Jordan.
 www.finewinetrio.com